Exhibit Information

Marking our 38th year, we are very excited to announce The Aston Baker Cutting Edge Aesthetic Surgery Symposium 2018 will be held November 29 - December 1, 2018 at The New York Hilton Midtown Hotel located at 1335 6th Avenue in the heart of New York City.

The 2018 program is a uniquely designed and innovative educational experience covering "Facial Rejuvenation and Total Body Sculpting: Surgical, Minimally Invasive And Non-Invasive Approaches". Our Course Chairmen Dr. Sherrell J. Aston and Dr. Daniel C. Baker have invited a world-renowned faculty of surgeon educators to present the most up to date clinical applications of established procedures and innovative new technologies.

The 2018 exhibitor space at The New York Hilton Midtown Hotel will be larger and offer more compelling opportunities than ever before! If you wish to pre-reserve an exhibit space please email us at exhibitors@astonbakersymposium.com. Booth locations will be assigned in order of paid applications and exhibitor level.

We look forward to welcoming you to New York City!


---
2017 Exhibit Directory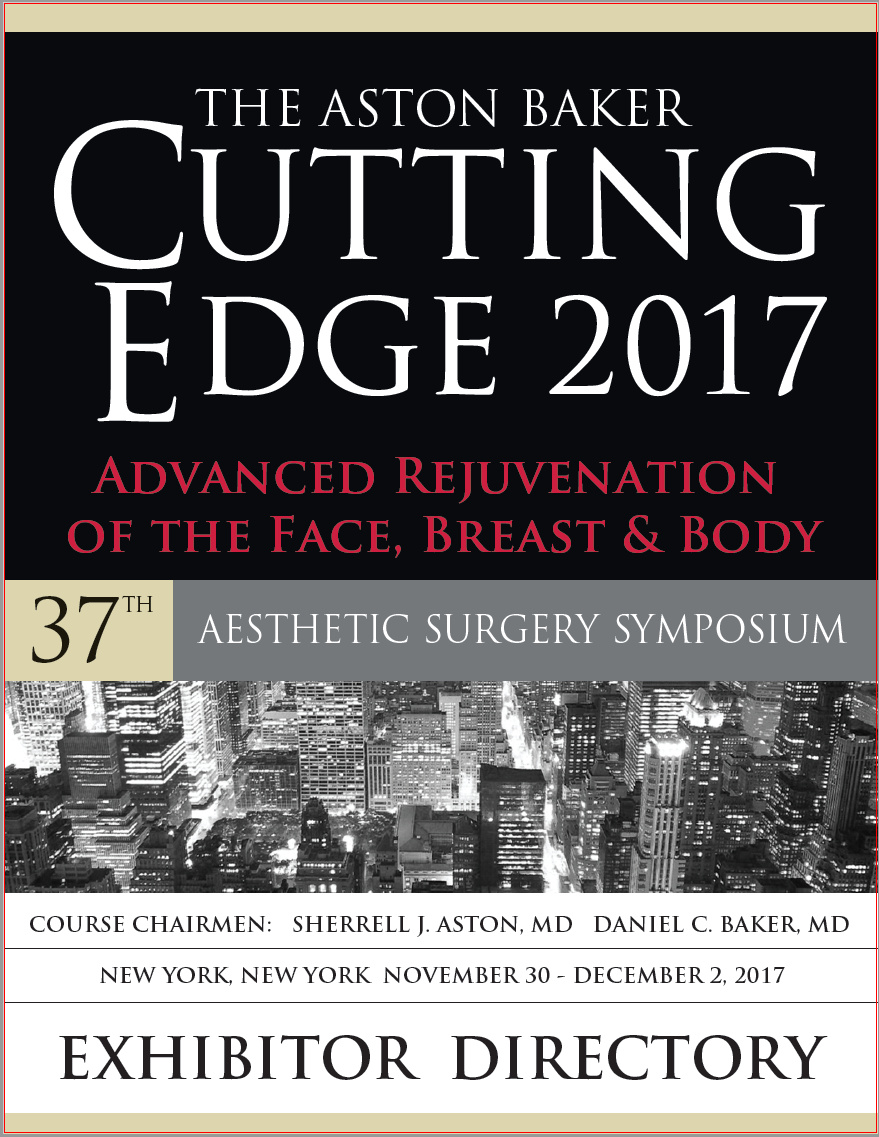 Click here to view/download our 2017 Exhibitor Directory.
---
Exhibitor Photos
To view more photos from our exhibit halls click here .
---
2017 Elite Diamond Sponsors




---

---






2017 Diamond Sponsors




---




---





---




---





2017 Platinum Sponsor






---




2017 Gold Sponsors




Elsevier
Galatea
Lipo Sales, Inc.
Quality Medical Publishing, Inc.


Sontec Instruments
Thieme Medical Publishers
Tulip Medical Products





---




2017 Silver Sponsors




ASAPS
Athena Trading Inc.
Biologica Technologies
Bio Oil
Canfield Imaging Systems
Christie Medical Holdings
Crisalix
Crystal Clear Digital Marketing
Design Veronique
Enova Illumination
Galderma Laboratories
Hayden Medical Instruments
InMode


Integra LifeSciences
Ipomia
ISAPS
Lutronic
Mentor Worldwide, LLC
Micrins
Microsurgery Instruments Inc.
Nextech
NextMotion
Shippert Medical
Virtual Health Partners
Wolters Kluwer