2017 Exhibit Information
Marking our 37th year, we are very excited to announce The Aston Baker Cutting Edge Aesthetic Surgery Symposium will be held November 30 - December 2, 2017 at the newly renovated Sheraton New York Times Square Hotel, located at 811 7th Avenue in the heart of New York City. The program for The Cutting Edge 2017 will include broad based topics covering the whole body.

We have put together an outstanding faculty of world class experts including:

Sherrell J. Aston, MD, Daniel C. Baker, MD, William P. Adams Jr., MD, Jamil Ahmad, MD, Marcelo Cunha Araujo, MD, Andre Auersvald, MD, Lawrence S. Bass, MD, Stanley B. Burns, MD, M. Bradley Calobrace, MD, Christopher T. Chia, MD, Claudio L. DeLorenzi, MD, Daniel A. Del Vecchio, MD, Barry DiBernardo, MD, Dino Elyassnia, MD, James C. Grotting, MD, Christine A. Hamori, MD, Per Hedén, MD, Alfredo E. Hoyos, MD, Jeffrey M. Kenkel, MD, Michael R. Lee, MD, Steven M. Levine, MD, Timothy J. Marten, MD, G. Patrick Maxwell, MD, Constantino G. Mendieta, MD, Arturo Ramírez-Montañana, MD, Warwick Nettle, MD, Elizabeth A. Poynor, MD, David P. Rapaport, MD, Rod J. Rohrich, MD, Douglas M. Senderoff, MD, James M. Stuzin, MD, Patrick K. Sullivan, MD, Steven A. Teitelbaum, MD, Spero J. Theodorou, MD, Charles H. Thorne, MD, Patrick L. Tonnard, MD, Holly C. Wall, MD and Simeon Wall Jr., MD.

The 2017 exhibitor space will be larger and offer more compelling opportunities than ever before! Our exhibitor prospectus with application will be available February 2017. If you wish to pre-reserve an exhibit space please email us at exhibitors@nypsf.org. Booth locations will be assigned in order of paid applications and exhibitor level.

We look forward to welcoming you to New York City.


---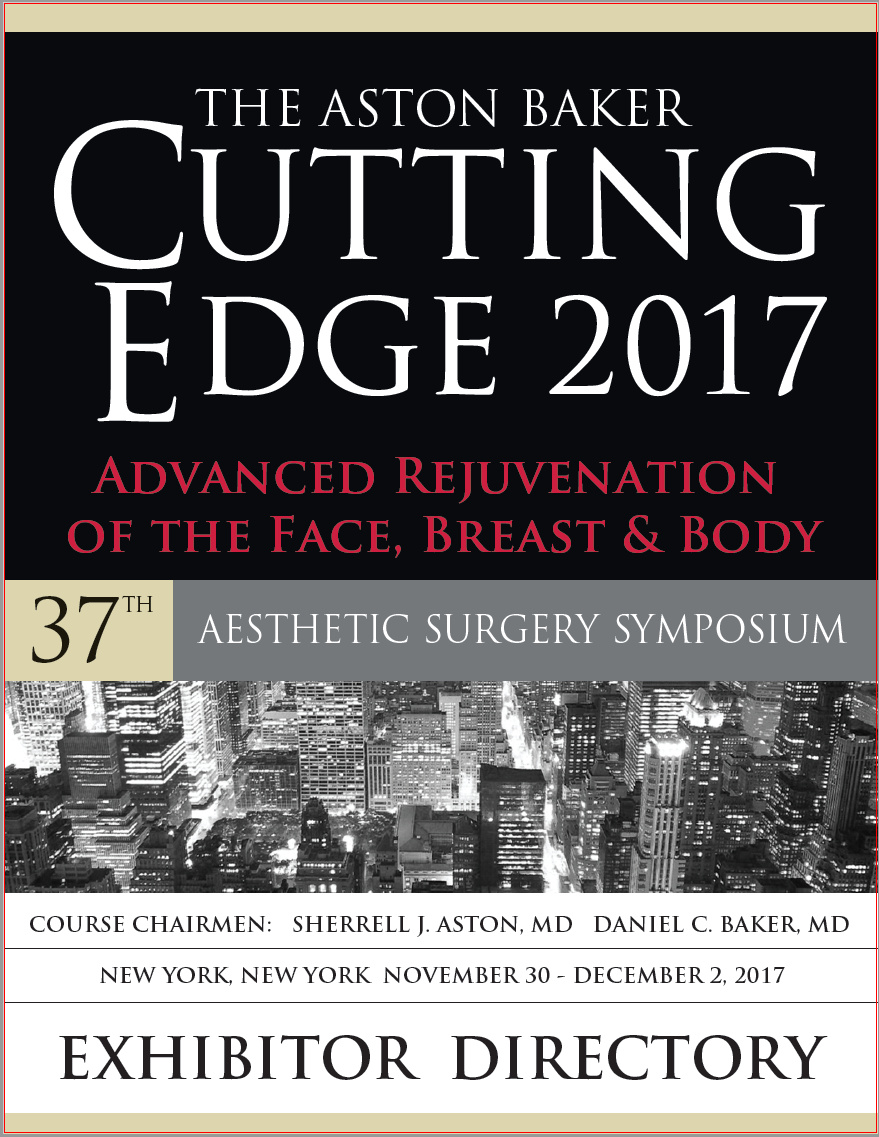 Click here to view/download our 2017 Exhibitor Directory.
---
Exhibitor Photos
---
2017 Elite Diamond Sponsors




---

---






2017 Diamond Sponsors




---




---





---




---





2017 Platinum Sponsor






---




2017 Gold Sponsors




Elsevier
Galatea
Lipo Sales, Inc.
Quality Medical Publishing, Inc.


Sontec Instruments
Thieme Medical Publishers
Tulip Medical Products





---




2017 Silver Sponsors




ASAPS
Athena Trading Inc.
Biologica Technologies
Bio Oil
Canfield Imaging Systems
Christie Medical Holdings
Crisalix
Crystal Clear Digital Marketing
Design Veronique
Enova Illumination
Galderma Laboratories
Hayden Medical Instruments
InMode


Integra LifeSciences
Ipomia
ISAPS
Lutronic
Mentor Worldwide, LLC
Micrins
Microsurgery Instruments Inc.
Nextech
NextMotion
Shippert Medical
Virtual Health Partners
Wolters Kluwer